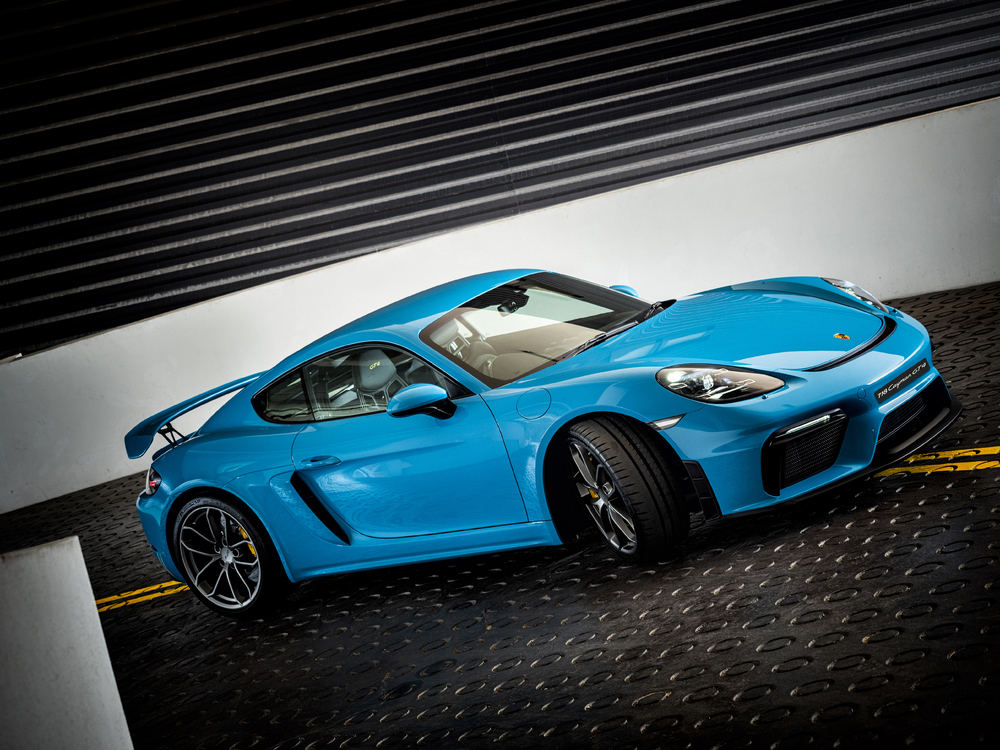 The Cayman and Boxster ranges, now on the 718 iterations seem to always play second fiddle to their bigger 911 stablemate. Especially with the likes of the Turbo S and the GT3. The current king of the 718 range though could change that. The 718 Cayman GT4 and the 718 Spyder are the hottest versions of the 718 platform, with both of them using similar ingredients to achieve contrasting results. Here are 14 highlights about them.
1. Its Naturally Aspirated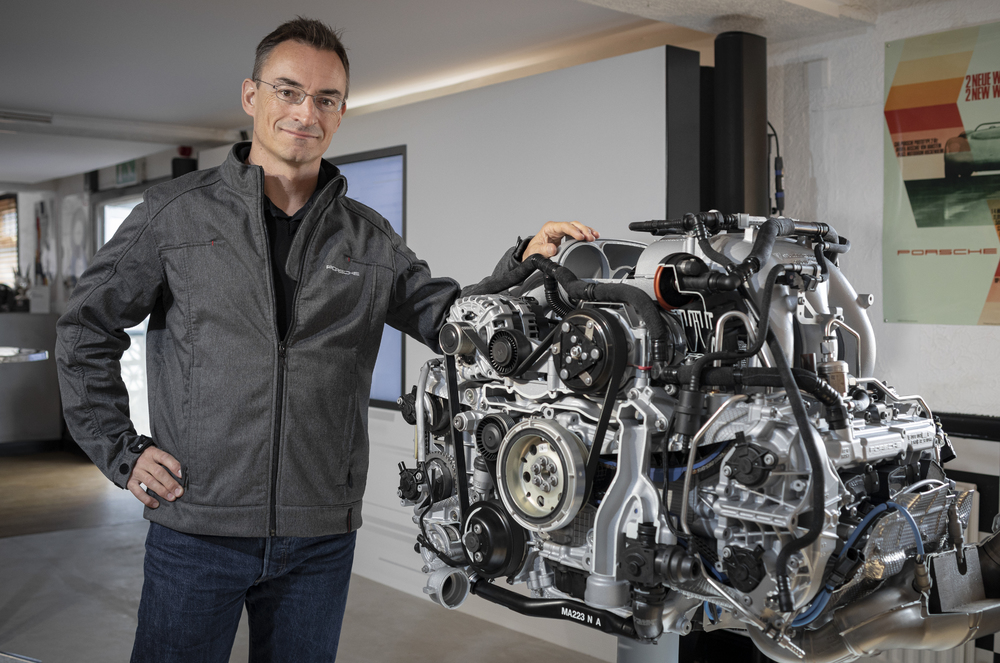 In the day and age of turbocharged everything, the Cayman GT4 and 718 Spyder spots a massive, naturally aspirated 4.0 flat six. Both cars shares the similar engine which puts out 420bhp and 420Nm. Horsepower comes in at 7600rpm, while torque comes in between 5000-6800 rpm. This dry sump unit is based on the turbocharged unit of the 992 Carrera.
2. With a 3 pedals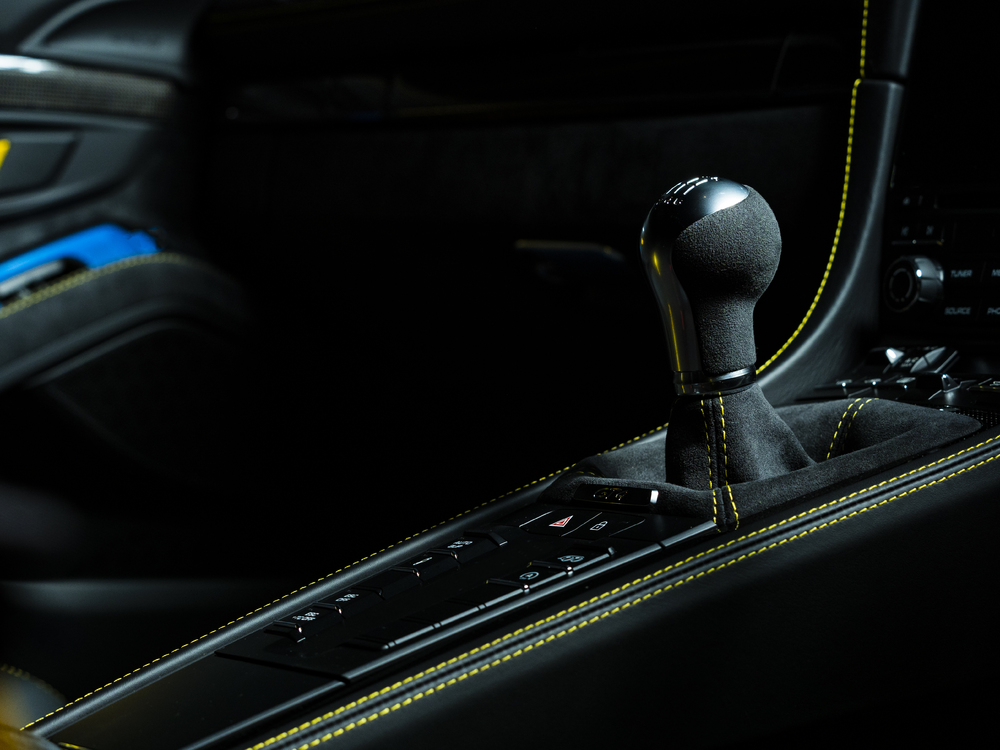 Continuing the old school charm is the fact that both cars come with manual 6 speed gearboxes. While a PDK gearbox is going to be faster and more efficient, nothing beats 3 pedals for driver involvement. This box also comes with auto-rev matching capability too.
3. Putting out serious performance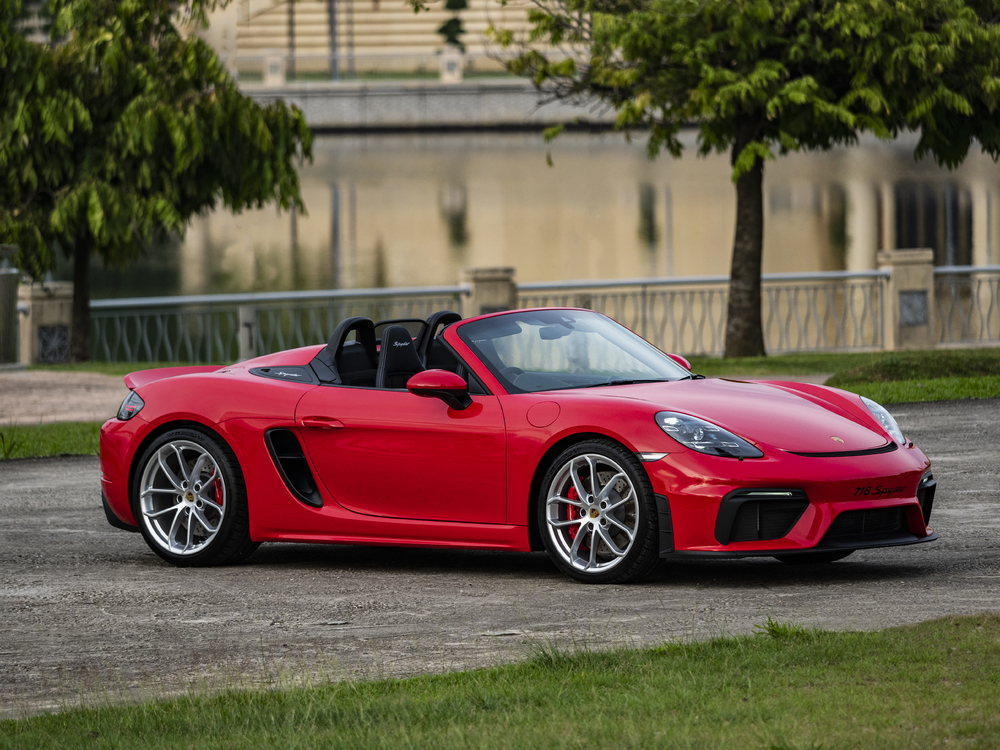 That 4.0 engine and manual box helps both cars hit 100kph in 4.4 seconds. At 9 seconds, both cars can hit 160kph, which is the same time the new Accord takes to hit 100kph. At 13.8 seconds, these cars hit 200kph and on to a top speed of over 300 kph.
4. With the soundtrack to match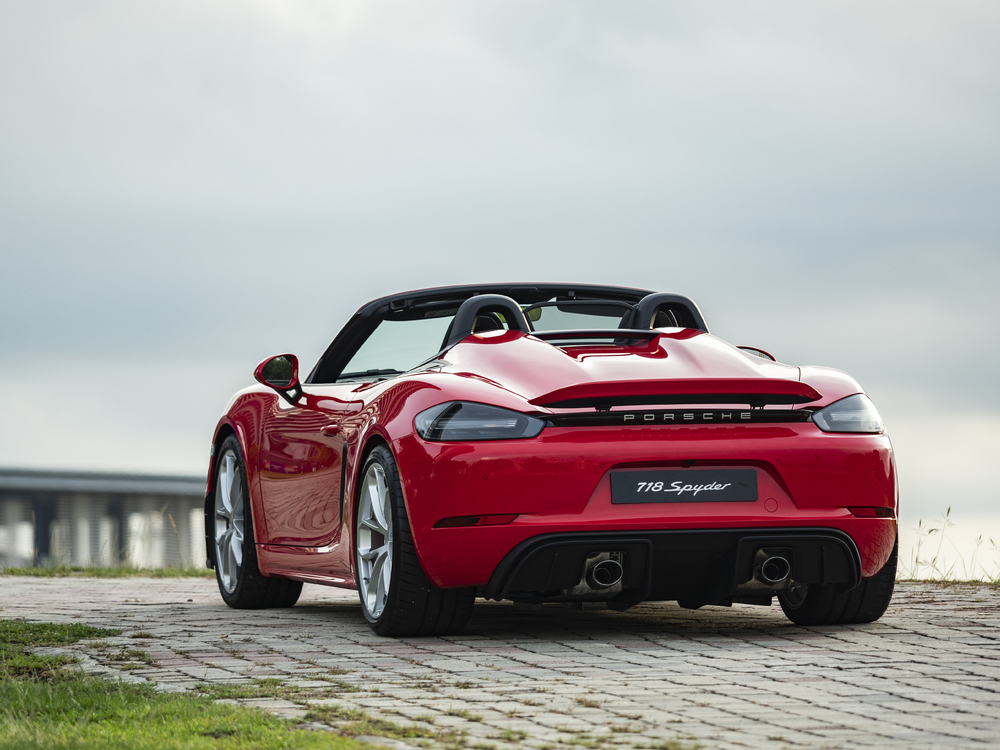 You get to hear that flat 6 howl clearly via a new precise sports exhaust system. Its a twin tailpipe system designed to highlight the boxer engine sound. Both tailpipes, incorporated into the rear diffuser are finished in black. You can mute it or let it howl at full volume via the touch of a button.
5. with plenty of downforce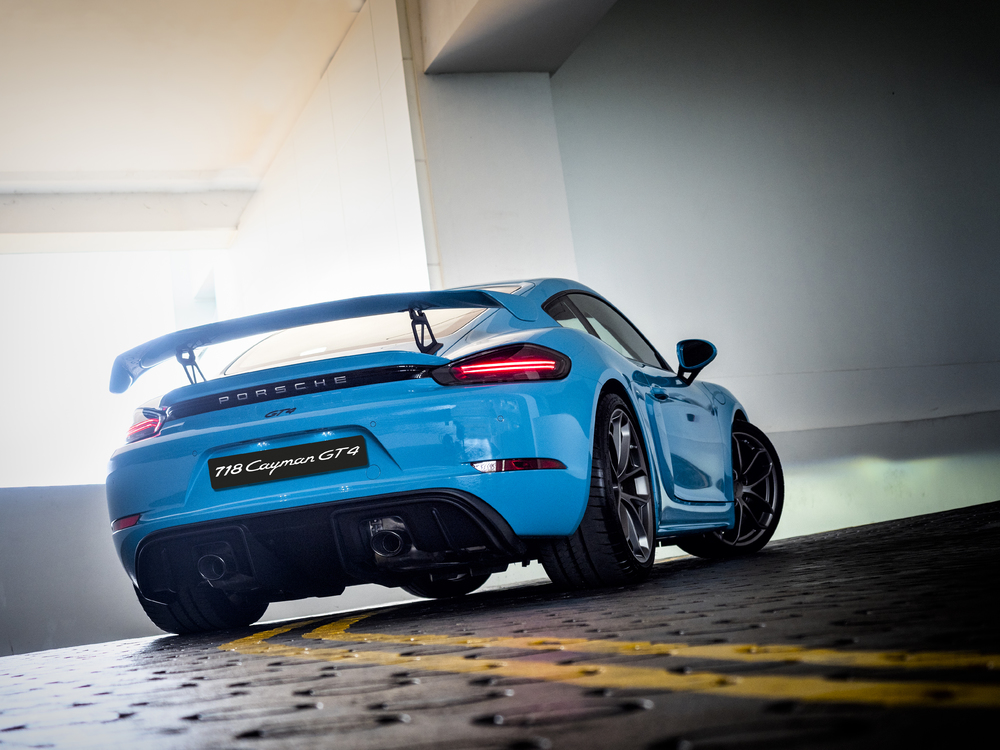 A 4 liter engine with 400 plus bhp is alot for a relatively compact platform like the 718's. To help contain all that power on the existing footprint, Porsche has been generous with the aero. The GT4 Cayman gets 50% more downforce overall with 30% more in the rear. The rear wing alone generates 20% more downforce than before. That's 12kg of downforce from the fixed rear wing alone at 200kph. The 718 Spyder goes down the slippery route making the car more streamlined. There's a front lip spoiler now with the words Spyder and the rear spoiler extends at 120kph.
6. and Efficiency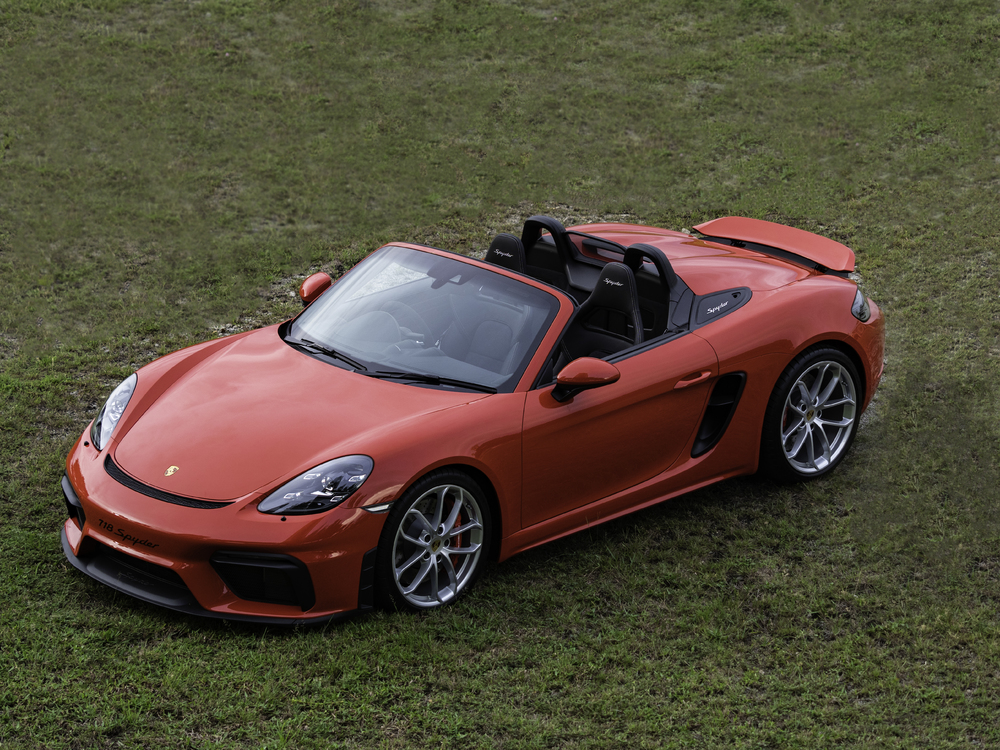 In true Porsche tradition, these are not mindless brutes, as they are highly efficient too. Just like in the new Turbo S, these engines run on Piezo injectors that can control your fuel trim in far greater detail, allowing greater efficiency especially on light throttle. Also these engine's can shut down an entire bank and run on just 3 cylinders to save fuel. Claimed consumption figures are rated at 11.3liters / 100km for mixed driving.
7. Analog Rev Counter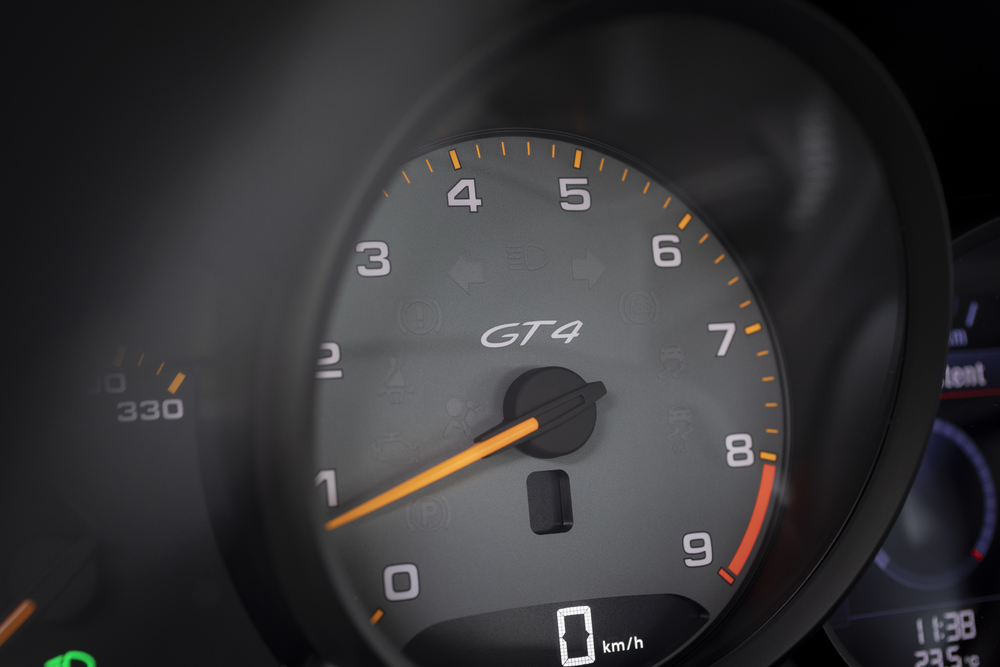 Despite all the high tech trickery under the hood, its nice to see Porsche cater to some old school sentiments. Just like having a manual gearbox, they have retained the signature Porsche analog rev counter for these cars.
8. Same chassis setup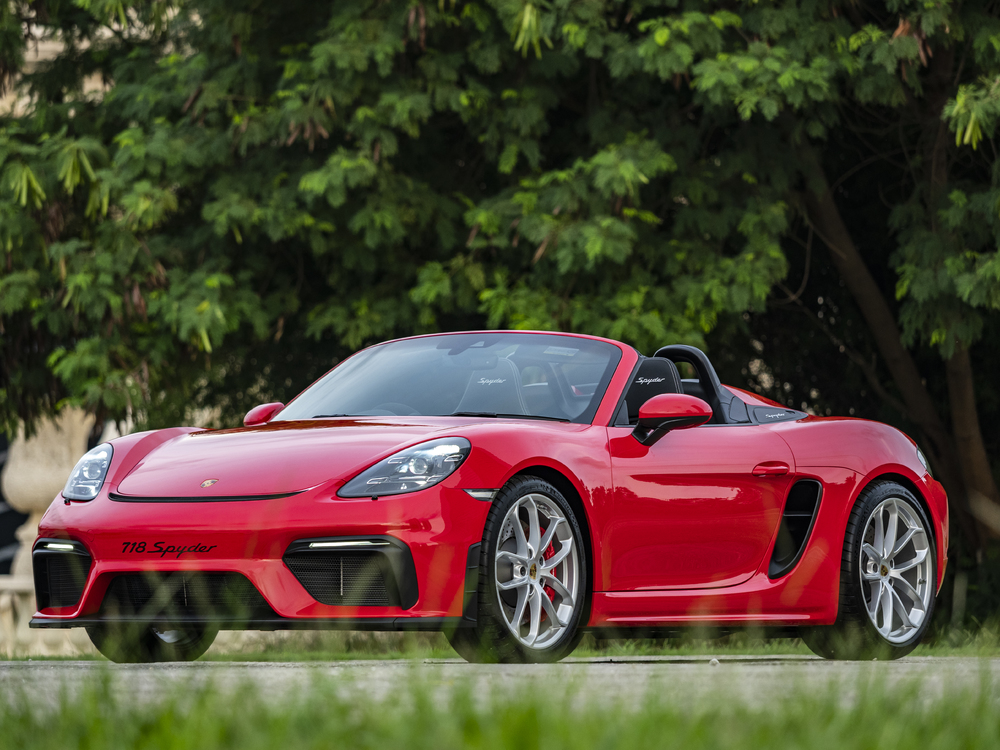 Both cars are based on the same chassis, and feature almost similar kit. They both enjoy lightweight spring and struts in the front and rear. The suspension links feature ball joints for better feedback from road to steering wheel. Both cars are fitted with standard Porsche Active Suspension Management (PASM) systems and ride 30 mm lower than standard. Both cars weights in at 1420kg
9. With similar toys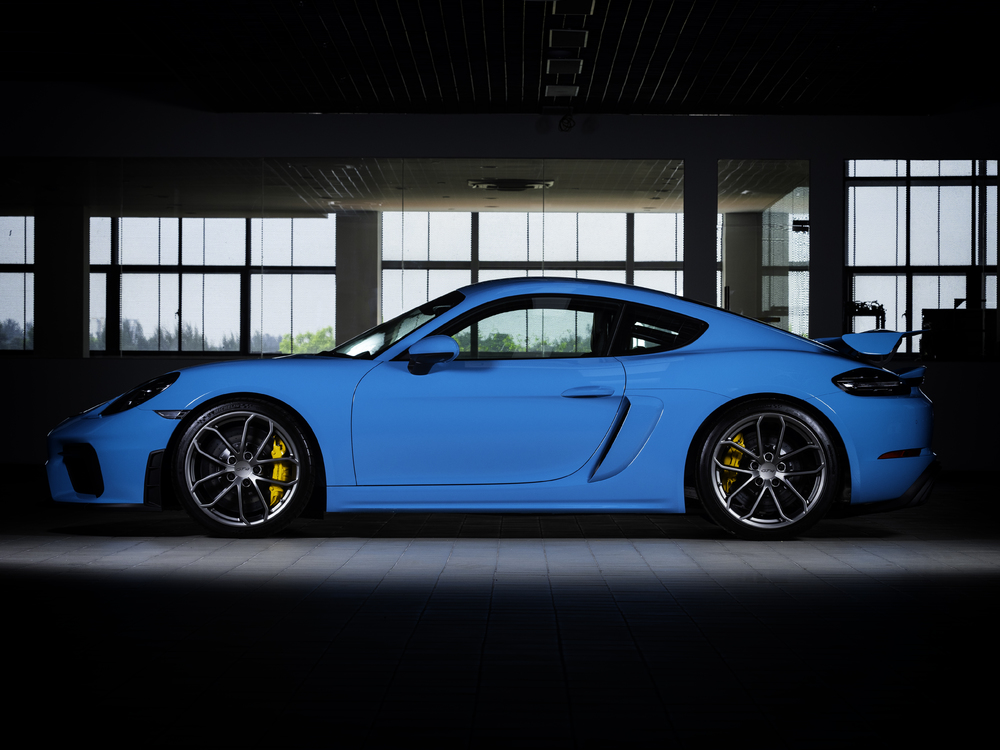 Both the 718 Spyder and Cayman GT4 get's Porsche Torque Vectoring (PTV) as standard, which means there's a mechanical rear differential at the back in both cars. And according to the press release, the 2 stage (ESC off / ESC+TC off) Porsche Stability Management (PSM) has been calibrated to greater sensitivity. It would be fun to see what our resident Rally Legend Karamjit Singh would have to say about this system's effectiveness on the Dato Sagor circuit?
10. But different execution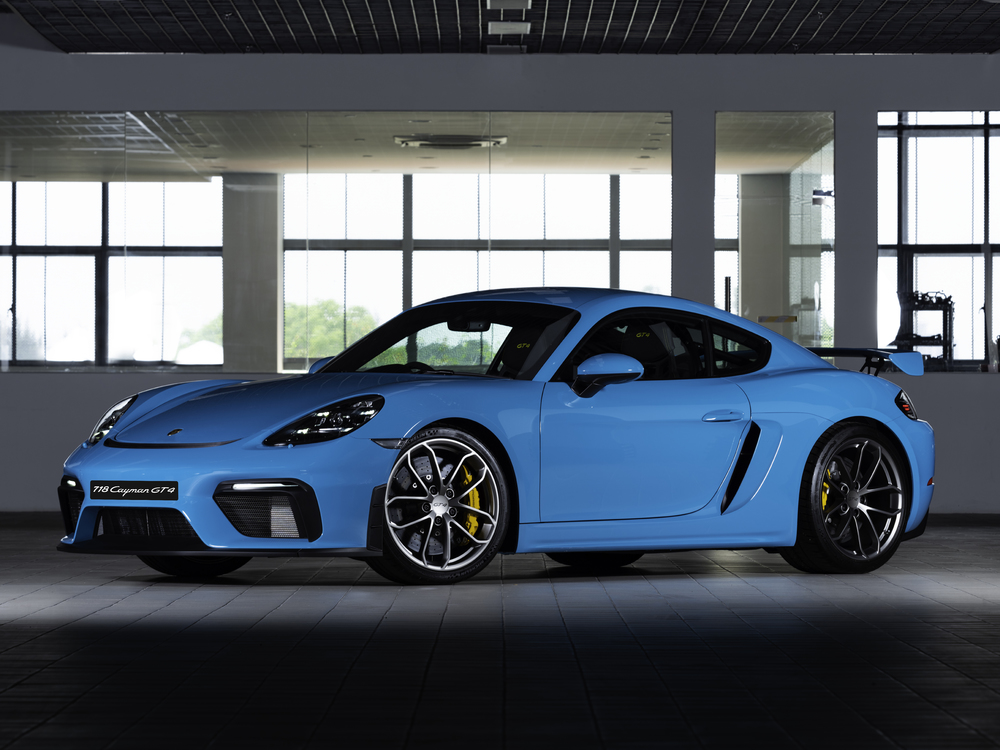 In the GT4 Cayman however, you are given the ability to further fine tune your car. You can adjust your ride height, camber, toe and anti roll bars on your 718 Cayman GT4. You can even adjust the rates of your anti roll bars too. Handy when you want to fine tune your setup for specific tracks / course.
11. Beefed up brakes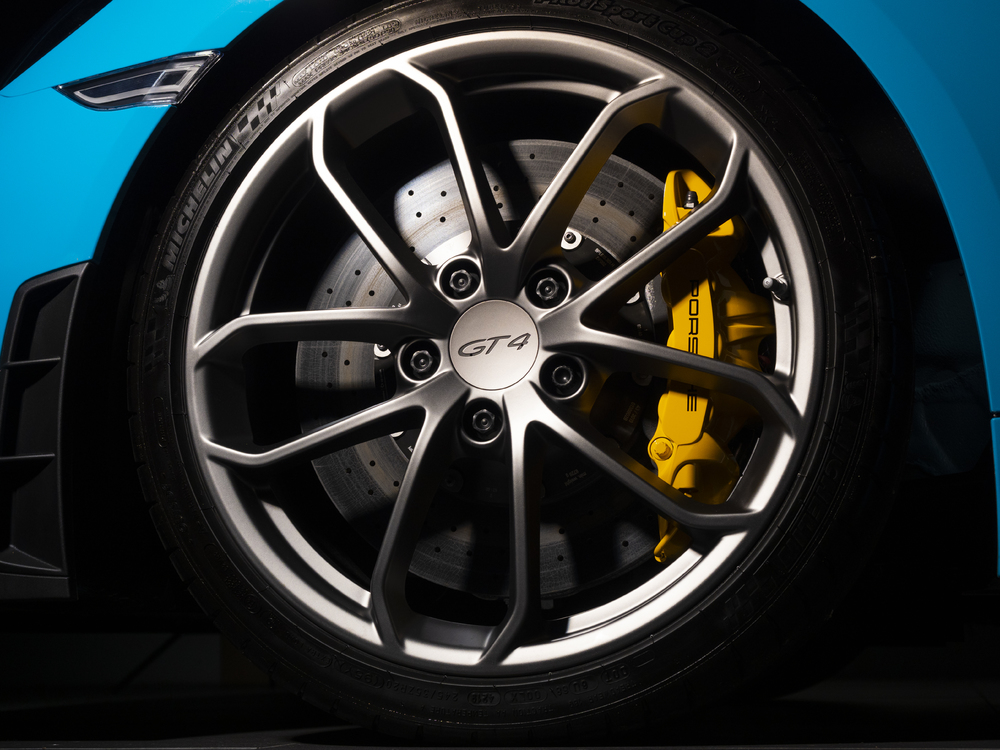 Helping you control the 4,0 flat-6's performance is the massive 6 piston aluminium monobloc brakes in the front and rear. Both discs in the front and back measure a whopping 380mm. The 300kg plus heavier and more powerful Nissan GTR only makes do with discs that measure an additional 10mm (390mm).
12. and High Performance rubber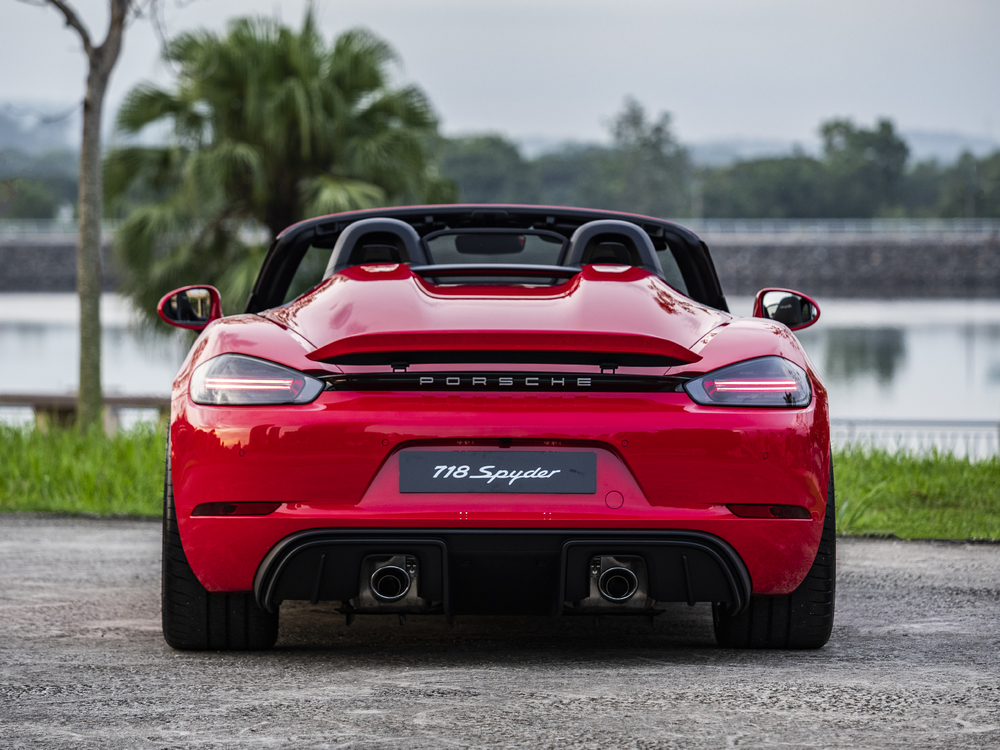 Both cars also come with 245/35/20 tyres on the front and 295/30/20 tyres at the back. Jaguar's F Type R uses the same tyre size to reign in 680Nm of torque. Porsche only loads 420Nm to those 295 section tyres. Plus they ride on what Porsche Malaysia claim to be high performance tyres. Combine that to the suspension, driving aids, chassis setup these cars are going to grip like a leech and completely overpower the output of the car.
13. Track goodies for the GT4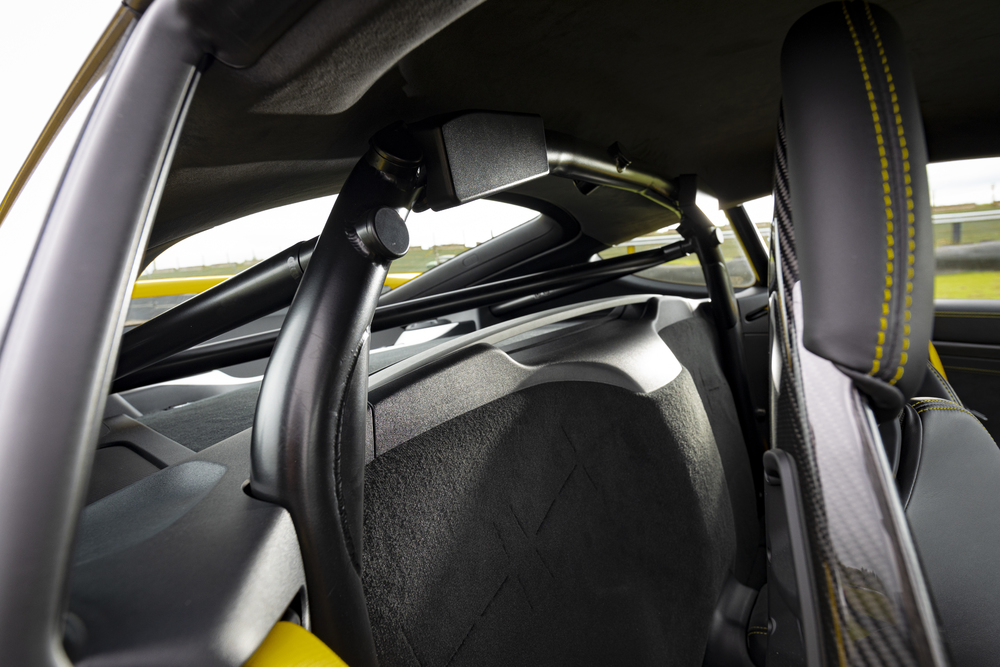 Complimenting the track focused chassis setup flexibility, the 718 Cayman GT4 also allows you to spec your car with more goodies. Items like a roll bar (a steel half roll cage essentially), a 6 point racing harness, and a fire extinguisher are all items you can spec for the GT4.
14. With interior trims for the Spyder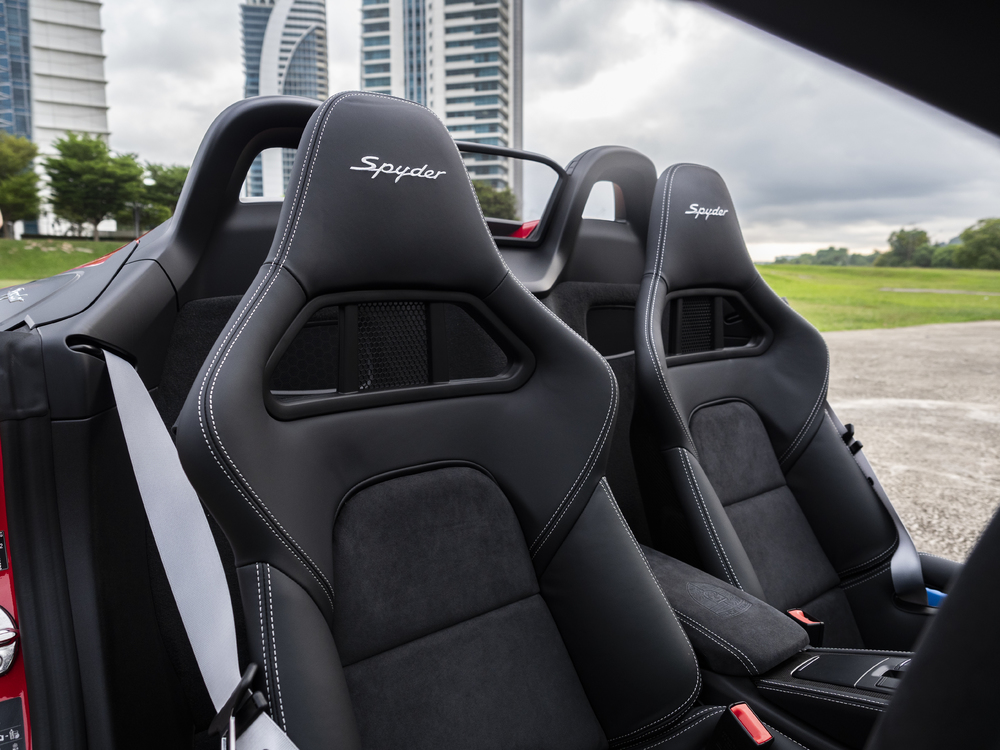 Where the GT4 is track focused, the 718 Spyder is more style centric. You get to spec the interior with Bordeaux Red and black two tone leather. Which pay homage to the Porsche racers cars of before.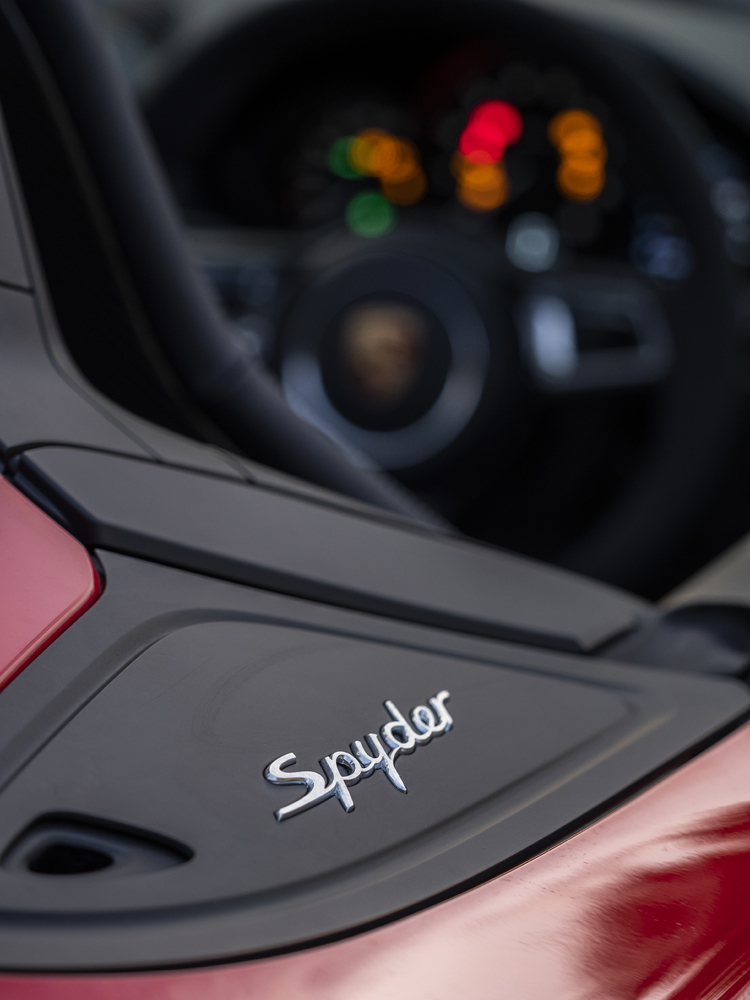 We barely spoke about the interior and the toys of these cars because it defies the purpose of these two. Both are two sides of the same coin. They share the same super responsive and engaging drivetrain. And both cars sit on similar chassis architecture. Where it differs is the execution. The Spyder is tuned for a more on road, leisurely feel. While the GT4 is a race track special. You can now get the 718 Cayman GT4 with Sime Darby Auto Performance for a price tag of RM999,000 onwards and the 718 Spyder from RM970,000 onwards. What would be your preference? Would you consider one of this dialed up 718's or opt for the base 911? Tell us in the comments!