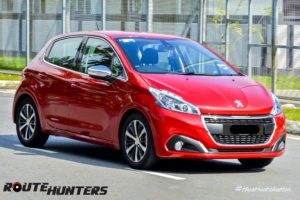 First car is always a special experience for someone. And I'm not talking about shadowing on the family car you use to college and work, but the first one you buy with your own paycheck. When you get a car of your own, you have the option of buying something that meets your requirement, and a chance expresses who you truly are. Imagine the night out with friends you can have, the wonderful long drives, that romantic night out, your car is going to play a big part on expressing yourself. So, what will you pick as your first car?  The generic answer for a first car will possibly be a Malaysian car or for those who can stretch a little, a Japanese car, and nothing more. But, what if your first car is to be a European one? It may be possible with the Peugeot 208 PureTech.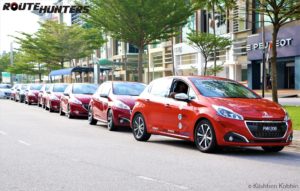 Price
"How come can buy Conti car weh? Not Expensive meh?" is the common Malaysian expression towards European car pricing. Well is it?
Here's a simple chart of how the Peugeot 208 PureTech stacks up against its rivals
​* Euro NCAP rating, other ratings are for ASEAN NCAP ** promotional price
As you can see the price difference is not that significant before any form of rebate on the Peugeot 208 PureTech.  You can get this 208 PureTech for as low as RM868 only*.  Which means if you have a salary of RM3000, you could technically afford this car*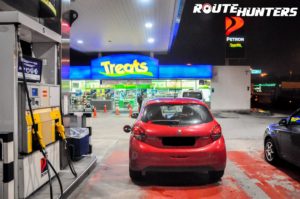 Fuel Consumption
The other thing that scares traditional Malaysian car buyers from Continental cars, is fuel consumption. "Aiya Continental makan minyak la" "Ayyo, that car ar? Guzzler la!" Not anymore.
Peugeot claims the car can do 4.9l/100km, which gives a theoretical range of 1190km per full tank of fuel. We at Route Hunters have achieved a real world result of over 930km from 50L of petrol from this car (That's RM 107.5 of fuel at the time of writing)!
That means if I compare it to a Perodua Bezza Automatic;
That's right, a turbocharged continental car is only 1 cent per KM more expensive to drive compared to a 1.0 liter Perodua.
While we do not encourage such extreme driving, which you can read about by clicking here, the realistic mileage for a full tank of fuel with this car would be about 750 – 800km, with urban driving. That's still RM0.14 per km!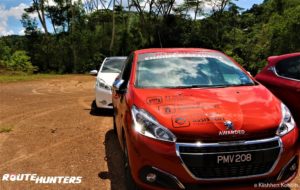 Power
Just because it's extremely fuel efficient, you do not pay the price with performance. This car develops 112PS power, which is 6PS less than the Honda Jazz, but a whopping 205Nm of torque, which is nearly 60Nm more than the Honda City. Torque is more useful in everyday driving, especially during overtakes, moving off from junctions and determines your ease in acceleration. 205Nm is a lot, in fact, a 2.0 Honda Accord does only 190Nm.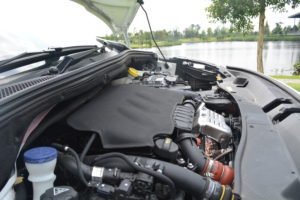 Servicing cost and Maintenance
Yes, the service cost of a Peugeot is more expensive than a Honda, but not by much. Honda Jazz's service prices ranges between RM 300 plus to almost RM 1000. The 208 Puretech's service maintenance price ranges from RM 500 plus to under RM 1000. Each service is either 10,000km or 6 months, whichever comes first. It's noteworthy that the engine oil in use is the Mobil 1 5W30, developed specially for Peugeot engines, and it's designed for high performance force induction engines.
As for the Warranty, Peugeot offers a 5 year / 120,000km warranty program. Which means if anything does go wrong with the car, it's fully taken care by Peugeot for that duration, and you will not have to pay for a single cent on claimed parts or labor.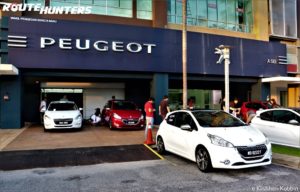 Safety, Safety, Safety
This is the one thing new car buyers avoid looking into. The 208 PureTech, has the highest safety rating compared to other cars in its price bracket, scoring a perfect Euro NCAP 5 star rating. This is not just by the number of Airbags, or safety devices alone, which the Peugeot has in loads, but also comes down to the safety structure of the vehicle itself. In the event of a crash, any amount of airbags is useless if the safety cell of the car collapses upon impact. This is where the Euro NCAP 5 Star rating plays its part. Talk to owners who had the unfortunate experience of being in an accident with their 208 and their 208 GTi's on the Facebook owners group. They are still alive to tell you those stories. Of course, it's not death proof, but it's the best probability of survival in this price bracket.
Here are some of the safety features of the 208 PureTech
6 Airbags (no recalls)
ISOFIX x 2 at the rear for child seats.
ABS
Electronic Brake Distribution
Electronic Stability Program
Electronic Brale Assist
Seatbelt pre-tensioner system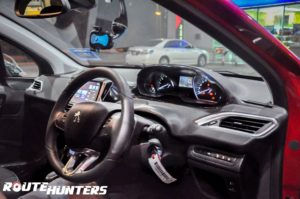 Convenience and Style
Beauty is a very subjective thing, what might be nice to look at for us might not appeal to others, therefore we let you be the judge. One thing you cannot mistake is that this car definitely looks striking compared to the thousands of Toyota Vios and Honda Jazz's that swarm our streets, both inside out. Here are some of the aesthetic merits of the 208 PureTech.
Exterior
Striking exterior looks
Smoked LED tail lamps with 'lion claw' motive
LED daytime running lights
16 inch alloy wheels
Interior
Supportive and super – comfortable Bucket Seats with Lumbar support
I-Cockpit
Small and light rally style steering wheel
7 inch touch screen
Bluetooth connectivity
LCD display in between gauges for instant information ​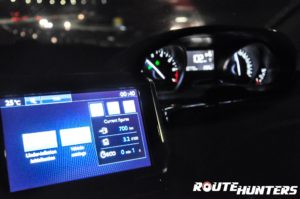 Should you buy one?
It's entirely up to you to decide if this is the best car for you or not. However, before making a decision, please take a drive down to your nearest Peugeot dealership and test this car on both urban road and motorway before making a decision. At least you will have a peace of mind that you have checked out every possibility before making a purchase. For those located in the northern part of Peninsular Malaysia, drop by at CS Euro Butterworth or CS Euro Bukit Mertajam and be sure to test out the 208 PureTech with them. One of the most informative and professional Peugoet dealer we have ever experienced, they will be able to provide any and all information you need about the car. If you choose to purchase the car, they are currently running a Merdeka Promotion right now so give them a call right now to find out more, or drop us a message for more details.
*subject to terms and condition